Accidental footing that led to another path
China Daily 2017-02-27 08:32:00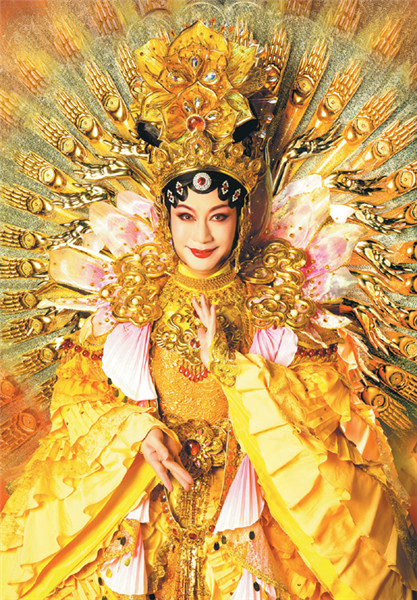 The New Peking Opera Philanthropic Guanyin of Wu Rujun debuted in Nanjing, East China's Jiangsu province on Jan 22. [Photo: China Daily]
  Was it chance or was it fate? The boy was just 4 years old and what delighted him most were his Shaolin training classes. But any possibility that he might even one day aspire to being a Shaolin master was shattered in a trice one day when he badly sprained his ankle during training.
  From that point on any notions that Wu Rujun had of going further down the Shaolin path evaporated and instead another calling that in fact seemed a much more natural choice for him came into view: Peking Opera.
  Rujun was born in Nanjing, Jiangsu province into a family with solid ties to this art form, his father being a renowned jinghu (a two-stringed fiddle who accompanies actors in the Peking Opera) musician and his mother a renowned singer. Yet the thought of passing on their artistry to their son barely crossed their minds, Wu says, until a friend visited the family, recognized the boy's talent and suggested to his parents that they teach him. Wu began to learn the jinghu from his father when he was 9.
  "Jinghu is too difficult for a child," says the actor, now 53, who has spent half of his life in Japan.
  "It is different from the piano, each of whose keys has a specific pitch. Playing the two-stringed instrument is like playing wire ropes; you have to use various techniques and varying intensity to make it sound pleasant."
  As he poured time and effort into practicing the instrument he drew more praise, and eventually the boy who might have become a Shaolin master had in fact become a servant - to the national treasure that is Peking Opera.
  In six years of study at the National Academy of Chinese he pressed on with getting to know the jinghu eight hours a day and finally graduated with excellence in all subjects. His beautiful falsetto that contributed to his later success in playing a dan (female character) also appeared in this period.
  Cultural innovation
  Yet Wu's career got under way at a troubled time for Chinese traditional arts, when popular culture from abroad was tempting people away to other forms of entertainment. In fact, Wu says, about this time, in the 1980s, there were frequently more performers than there were people in the audience.
  Many of Wu's colleagues got out of the profession, but Wu, determined to make something of his craft, sought to turn his skills to good account. He blended jinghu music with popular musical elements and created jinghu light music that gave the instrument, which has been an accompanying instrument for hundreds of years, into a mainstream instrument.
  "Cultural heritage needs development and innovation," Wu says. "Chinese Opera art is extensive and profound. Chinese artists must share responsibility for spreading their country's traditional culture and popularizing it by being aware of related fields of art and music elsewhere."
  For Wu, national boundaries do not exist in the arts. Peking Opera is a very masculine art form, but he learned from Japanese culture to add more sentiment to his theatrical works, he says, and created New Peking Opera.
  Peking Opera as China's national treasure is a fusion of Chinese cultures of thousands of years old, while New Peking Opera looks for a larger blend at the global level, he says.
  In Wu's version, the key elements of traditional Peking Opera are kept, but stylistic changes are made. For example, it highlights melody with thematic music that suits different roles, and actors don makeup and garments that are closer to modern life. Current trends are also reflected in the presentation, and the stage design features more illumination and the choreography more dance movements than is the case with the traditional version.
  Wu migrated to Japan in 1989 with his Japanese wife, and in 2000 he founded the Japan Peking Opera Theater in Tokyo.
  "After arriving in Japan I found people only had limited knowledge of Peking Opera, mainly about fight sequences, and few knew about the music, which is obviously hard to understand.
  "Japanese audiences are well mannered, and everyone applauds at the appropriate time. But at first the applause was out of courtesy rather than being a genuine show of appreciation."
  In the intervening years Wu has created more than a dozen New Peking Opera productions and presented many Chinese traditional female figures to Japanese audiences. Every year nearly 50 of his shows are staged in Japan.
  Continuous dedication
  Just as the accolades of those who witnessed Wu's performances as a boy pushed him to greater things, the applause he receives today continues to inspire him.
  "Some audience members tie red flowers around their wrists, and when they applaud it looks like a sea of flowers. It really moves me and I really appreciate their love and support."
  The concepts of peace and benevolence in traditional Chinese culture run through his works, he says. Recently Wu brought his new opera Philanthropic Guanyin back to his hometown of Nanjing and gave Chinese audiences a fresh taste of the magnificence of their traditional treasure.
  The play is reckoned to be the first of its kind depicting the process of enlightenment of the bodhisattva of compassion, which is portrayed as a female figure Guanyin in Chinese Buddhism.
  It debuted in Nanjing Culture and Art Center on Jan 22. It was put on show in Beijing's Chang'an Grand Theater on Feb 18 and 19, and it will go on tour in Japan in September as a tribute of the 45th anniversary of the establishment of China-Japan diplomatic relations.
  Though Japan is very much home for Wu these days, he continues to be passionate about the growth of Peking Opera in China. Apart from presenting his works to Chinese audiences, he has also set up a studio in conjunction with Beijing Opera Troupe of Nanjing to cultivate prospective talent.
  "My idea is to make use of my artistic performances to draw the people of my own country and of Japan closer to each other so that they understand each other better."