China-Ireland film festival kicks off in Dublin
Xinhua 2019-06-27 10:45:00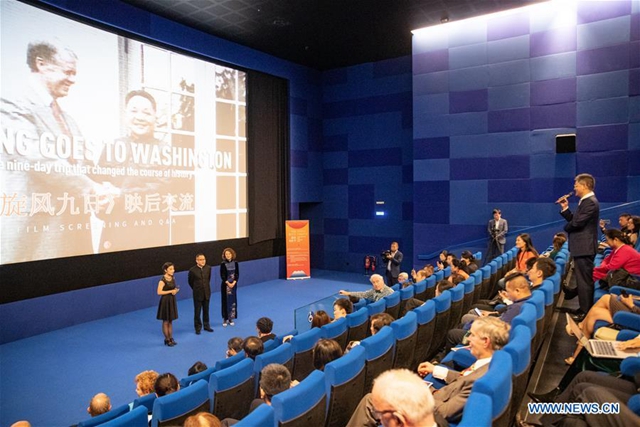 Guests attend a question and answer session following the screening of a Chinese film at Lighthouse Cinema in downtown Dublin, Ireland, June 24, 2019. The six-day China-Ireland International Film Festival, the first of its kind ever held in Ireland, kicked off here on Monday night, offering fresh experiences to local cinemagoers. (Xinhua)
DUBLIN, June 25 (Xinhua) -- A six-day China-Ireland International Film Festival, the first of its kind ever held in Ireland, kicked off here on Monday night, offering fresh experiences to local cinemagoers.
Chinese Ambassador to Ireland He Xiangdong and former Irish Prime Minister Enda Kenny attended the festival's opening ceremony held at Lighthouse Cinema in downtown Dublin.
Addressing the ceremony, the ambassador said that 2019 marks the 40th anniversary of the establishment of diplomatic ties between China and Ireland and over the last four decades great achievements have been made in various fields of cooperation.
Cultural and people-to-people exchanges are important parts of China-Ireland relations, he said, stressing that the film festival will positively contribute to the development of bilateral relations.
Organized by the Confucius Institute at the University College Dublin (UCD) and the China-Ireland International Film Festival Organizing Committee and supported by the Chinese Embassy in Ireland and Screen Ireland, among others, the festival will feature 22 films, documentaries, cartoons and short films. Many of the Chinese films have been produced by Changchun Film Studio, China's first film company.
Simultaneously with the festival, hand-craft film posters of Changchun Film Studio are exhibited at UCD Confucius Institute.
A seminar aimed at strengthening exchanges between the two countries' film industry professionals and an award ceremony for the best short films will also be held during the festival, according to organizers.