Exhibition in HK honors Jin Yong
China Daily 2017-03-01 17:10:00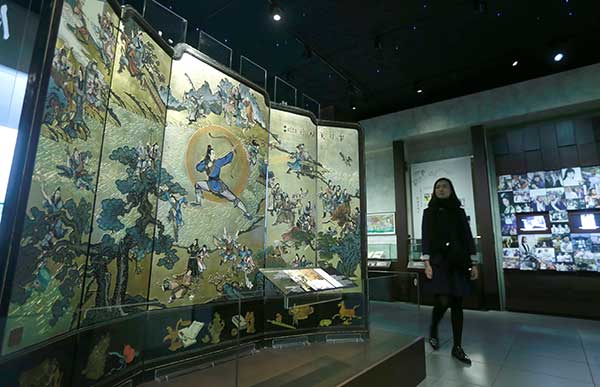 A woman looks at an exhibit of the Jin Yong Gallery at the Hong Kong Heritage Museum on Tuesday. The exhibition will officially open to the public on Wednesday. (Photo by Roy Liu/China Daily)
  Dignitaries and celebrities in Hong Kong attended an event on Tuesday to honor Jin Yong, whose picaresque tales of martial arts heroes are beloved throughout the Chinese-speaking world.
  The occasion marked the grand opening at the Hong Kong Heritage Museum of Jin Yong Gallery, a permanent exhibition of works by Louis Cha Leung-yung, better known by his pen name, Jin Yong.
  The exhibition, which opens to the public on Wednesday, presents nearly 300 items, including manuscripts, photographs, early editions of his novels, film posters, recordings of TV series' theme songs and Jin Yong's personal items, such as a chessboard and a camera.
  Jin Yong's novels have been adapted more than 90 times for the big screen and television.
  "Cha (Jin Yong) has made a distinctive contribution to the development of Hong Kong's society and culture. With his in-depth knowledge and elegant writing, he succeeded in advancing martial arts novels from leisure reading to the level of literary classics, even becoming a subject for experts and scholars to study and discuss," Lau Kong-wah, secretary for home affairs of the Hong Kong Special Administrative Region government, said while officiating at the opening ceremony.
  "His works have had a far-reaching impact on Hong Kong's popular culture and even on global Chinese literature," Lau added.
  One valuable manuscript on display is The Smiling, Proud Wanderer that was published in Singaporean newspaper Shin Min Daily News in 1967. "Jin Yong's thought process is clear and smooth, for we seldom see corrections or changes to his draft," said Brian Lam Kwok-fai, a curator at the museum.
  Other valuable exhibits include an offprint edition of The Eagle-shooting Heroes from the 1950s.