China sees bumper summer harvest
Xinhua 2019-06-27 11:02:00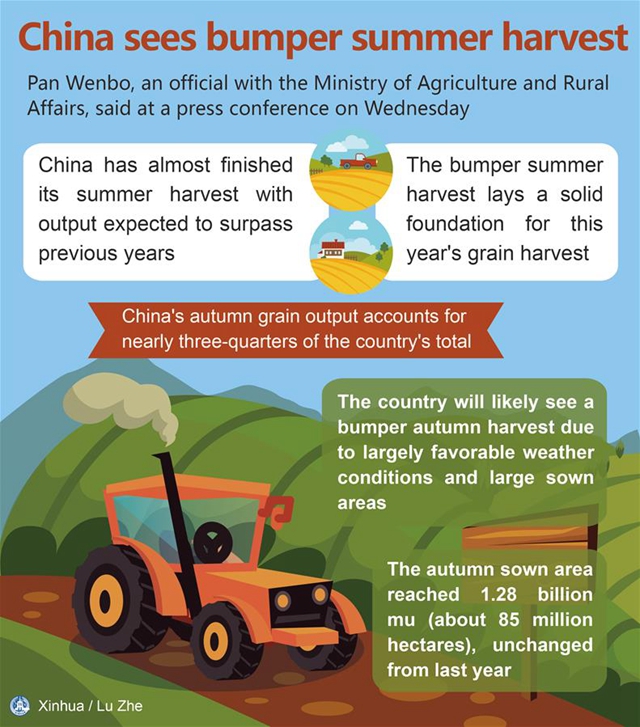 Graphic shows China has almost finished its summer harvest with output expected to surpass previous years. (Xinhua/Lu Zhe)
BEIJING, June 26 (Xinhua) -- China has almost finished its summer harvest with output expected to surpass previous years, an agricultural official said Wednesday.
The bumper summer harvest lays a solid foundation for this year's grain harvest, Pan Wenbo, an official with the Ministry of Agriculture and Rural Affairs, said at a press conference.
Pan said that the country will likely see a bumper autumn harvest due to largely favorable weather conditions and large sown areas.
The autumn sown area reached 1.28 billion mu (about 85 million hectares), unchanged from last year.
China's autumn grain output accounts for nearly three-quarters of the country's total.
However, Pan also said floods, droughts and pests may have adverse impacts on grain production. The fall armyworm, a crop-eating pest, has been detected in over 1,000 counties in 19 provincial-level regions, posing a threat to the crops.
The country may see extreme weather over the next few months, with droughts expected in northeastern areas and floods in the south.
Pan urged efforts to control fall armyworms and minimize the impact of droughts and floods on crop production.