Tai'an's tourism booms during Mid-Autumn Festival
2018-09-26 14:06:00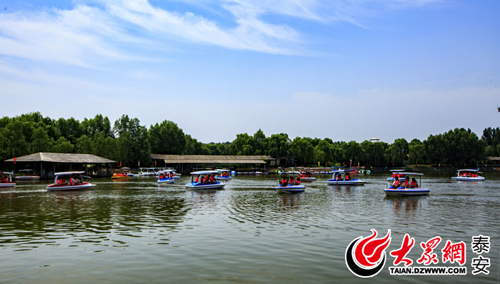 Tourists take the sightseeing boats at the Baotailong scenic area in Tai'an, Shandong province during the three-day Mid-Autumn Festival holiday from Sept 22 to 24. [Photo/dzwww.com]
The 20 major scenic spots in Tai'an, Shandong province received 446,500 visitors during the three-day Mid-Autumn Festival holiday from Sept 22 to 24, according to data released by the Tai'an government on Tuesday.
A total of 35.53 million yuan ($5.15 million) in revenue was reaped by the 20 scenic spots during the three days.
Several preferential policies were released and numerous activities were also organized by the scenic spots in Tai'an to attract tourists, including the food festival at the Tai'an Fantawild Adventure, and the cultural tourism festival at the Chunqiu ancient town.
As a result, Mount Tai Scenic Area received 69,600 tourists, with an income of 5.28 million yuan; the number of tourists visiting the Baifo (White Buddha) Mountain Scenic Area totaled 59,600 and the income amounted to 5.97 million yuan.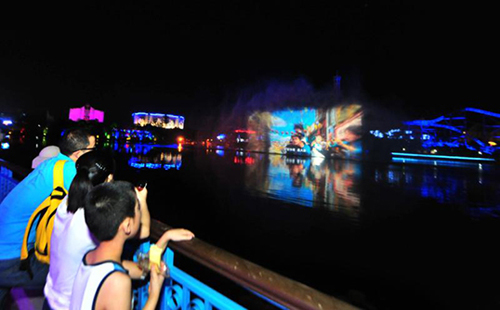 Tourists watch the water screen film at the Fantawild Adventure in Tai'an, Shandong province during the three-day Mid-Autumn Festival holiday from Sept 22 to 24. [Photo/fangte.com]
Besides the well-known scenic spots, rural tourism in Tai'an also gained popularity during the three-day holiday due to the numerous harvest celebration-themed activities. The six rural tourism sites, including Liyu village and Wubu village, attracted more than 35,000 tourists, who spent more than 2.88 million yuan in total.
The Tai'an government also enacted several measures to make travelling in Tai'an more convenient and comfortable, such as opening for free the parking lot of the Tai'an administrative service center, providing tourist information services, and opening the temporary bus lines to the Mount Tai Scenic Area.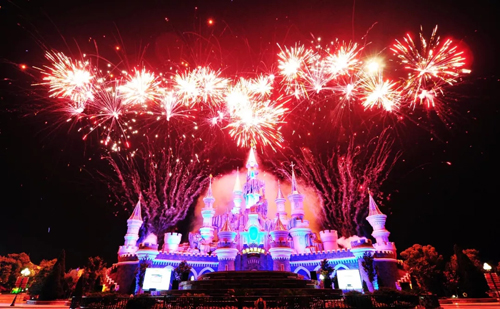 The firework show at the at the Fantawild Adventure in Tai'an, Shandong province during the three-day Mid-Autumn Festival holiday from Sept 22 to 24. [Photo/fangte.com]