Legendary figure's tale comes to the stage
China Daily2023-05-21 11:23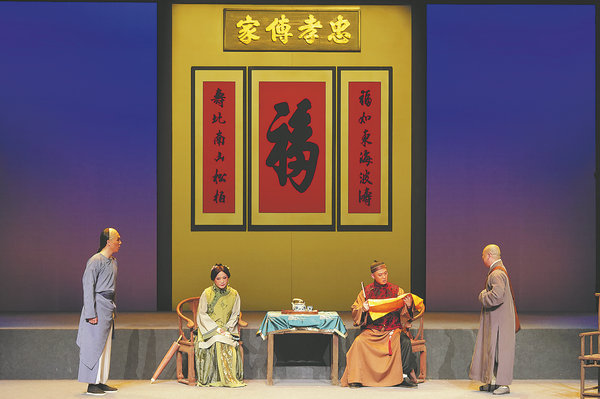 Tan Xinpei (1902-1908)brings the story of the Peking Opera master to the stage. [Photo by TASU/FOR CHINA DAILY]
  Professor Wang Yongqing from the National Academy of Chinese Theater Arts recalls that, when he went on a boat journey at the age of 8 with his father, he was taught to sing Peking Opera, despite the fact that he didn't know what the lines meant.
  It wasn't until much later that he realized that those first lines of Peking Opera he learned came from a work of the Tan school, a notable style of the art form pioneered by Tan Xinpei (1847-1917).
  The connection has been rekindled, as Wang brought Tan's story to the stage in a recent productionTan Xinpei (1902-1908), which debuted on May 5 at the Grand Theater of the Cultural Palace of Nationalities in Beijing.
  Written by Wang and co-directed by him and Yang Zhaoheng, the production focuses on Tan's life from 1902 to 1908.
  When the Eight-power Allied Forces invaded Beijing in 1900, Empress Dowager Cixi took Emperor Guangxu and fled for Xi'an, Shaanxi province. In 1902, they returned to Beijing, and Tan was summoned to perform regularly at the imperial palace, until both the empress and the emperor died in 1908.
  "During the turbulent last years of the Qing Dynasty (1644-1911), Tan worked tirelessly to develop and solidify the art of Peking Opera," Wang says.
  "This period of history was a heart-wrenching time for all Chinese people, when the country faced internal conflicts and external threats. Meanwhile, Tan had to be cautious when performing at the palace, because even a single inappropriate line could have had dire consequences."
  By depicting Tan's interaction with figures including the empress, the production aims to provide a faithful account of Tan's experience and achievements, reflect the historical context of the time, as well as present the plight faced by traditional Chinese opera performers.
  Wang says that for many people, Tan is a cultural icon deeply imprinted in their memories, and the production crew members aspire to transform him from a name written in history to a lively character who dedicated his life to passing down the art form of Peking Opera.
  The production is joined by Tan's descendants, who have taken up the mantle of inheriting the Tan school of Peking Opera, doing so for six generations.
  Tan Xiaozeng, a veteran Peking Opera performer, along with his wife, Yan Guixiang, served as artistic advisers, and their son, Tan Zhengyan, performs the production's theme song.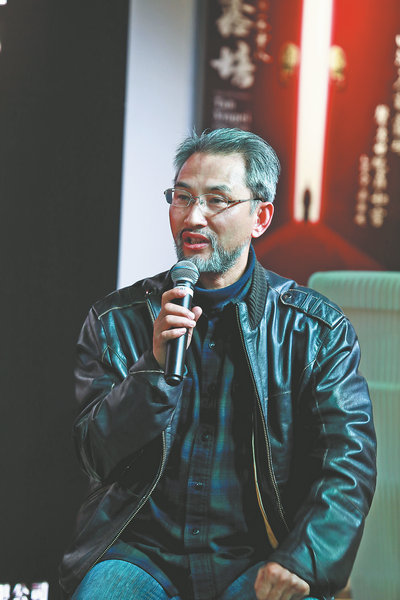 Director Wang Yongqing.[Photo provided to China Daily]
  "As members of the Tan family, we feel a deep sense of responsibility to pass down the valuable cultural legacy left by our ancestors," Tan Xiaozeng says.
  "The promotion and advancement of an art form depend on a collective effort, because art doesn't belong to any individual or family, but to society as a whole."
  Wang categorizes the production as "free-form theater", which chooses or combines different forms of artistic expression, such as traditional opera, drama, dance and music, to match the events or characters depicted.
  "It's not an original genre, rather, it's simply my understanding of theater productions. In my opinion, theater is an unrestricted art form. A sense of freedom also lies in the aesthetics of traditional opera," Wang says.
  "As long as it's in line with my core message, the overall style and the aesthetics, any artistic form can be thoughtfully incorporated into the production."
  According to Fu Jin, professor of the National Academy of Chinese Theater Arts and also an artistic adviser to the production, Tan Xinpei played an indispensable role in helping Peking Opera reach its prime.
  "The achievements of Tan Xinpei lie not only in that he founded his own style, but also in that he was a great master who laid the foundation for the aesthetics of Peking Opera," Fu says.
  "This production specifically focuses on the most important period of Tan's life, when he had the closest connection with modern China's social development. He was a great artist of that era, and exerted his influence on the Chinese society at the time."
  chengyuezhu@chinadaily.com.cn