Chinese restaurants broaden their horizons
China Daily2023-03-17 13:56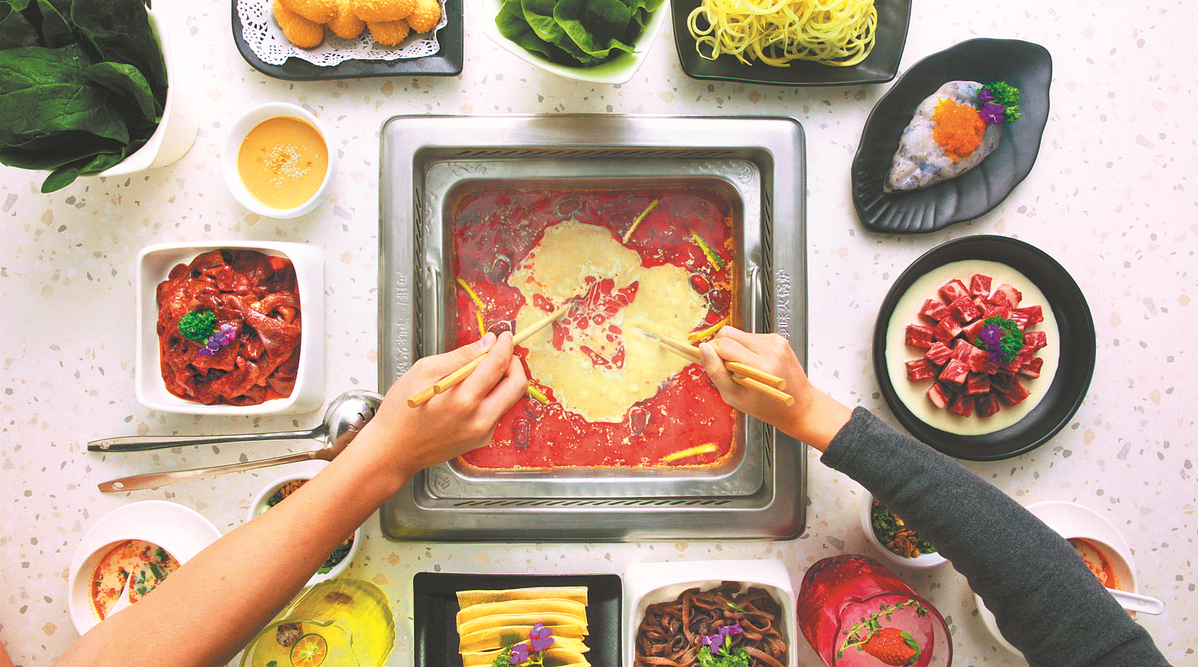 Hotpot chain Haidilao, which has been expanding rapidly overseas, launched its first outlet on foreign soil in Singapore 11 years ago.CHINA DAILY
  Overseas expansion plans target new customers, additional income
  Hotpot chain Xiabuxiabu recently opened its first overseas store in Singapore, introducing its renowned small-pot individual servings, along with a special sesame sauce.
  To cater to local customers' preferences, these meals are selected from five options created specifically for the overseas market, including pickled cabbage golden soup and pepper pork stomach and chicken soup. All options are served with a mushroom soup base.
  The chain plans to expand further by opening a total of six overseas stores this year in Singapore and Malaysia.
  Chinese restaurant businesses are accelerating their expansion plans in foreign markets. Large chains and smaller-sized brands are targeting Southeast Asia — particularly Singapore — as well as North America.
  Such expansion has shifted from targeting overseas Chinese to attracting local customers. It has also transitioned from small-scale fragmented operations to specialized and network-based businesses with local supply chains, reflecting the growing popularity of Chinese cuisine and the global appeal of the nation's culture.
  Coucou, another Xiabuxiabu hotpot brand, launched in Singapore a year ago. For many Chinese restaurant businesses, Singapore is their first choice for overseas expansion, as the city state has a sizable Chinese population and a multicultural society that enjoys different types of cuisine.
  Taier Chinese Sauerkraut Fish opened its first overseas store at Changi Airport in Singapore in August 2021, while Meow Barbecue launched its first store on foreign soil in Singapore in September.
  Tanyu, a restaurant chain focusing on roasted fish, has opened five stores in Singapore. Li Xiaoshuai, a spokesman for Tanyu's franchise expansion, told Chuhaitimes, a news website covering Chinese companies exploring foreign markets, that when choosing a location. The main consideration is whether it fits the company's customer base of overseas Chinese, including students.
  Dishes offered by Tanyu feature flavors popular in China, giving overseas Chinese a taste of home.
  Li said that for financial reasons, more than half the materials used by Tanyu's Singaporean outlets are imported from China through third-party channels, including kitchen utensils. Fish, the core ingredient, is sourced from Vietnam.
  Tanyu's stores in Singapore operate in a franchise system and are managed by local teams. Li said the company's headquarters in Shenzhen, Guangdong province, arranges online training to maintain consistency with its food produced in China.
  Annual revenue from a single Tanyu outlet is about 19 million yuan ($2.74 million), and Li said the business plans to expand to 10 to 20 overseas destinations in the next two to three years.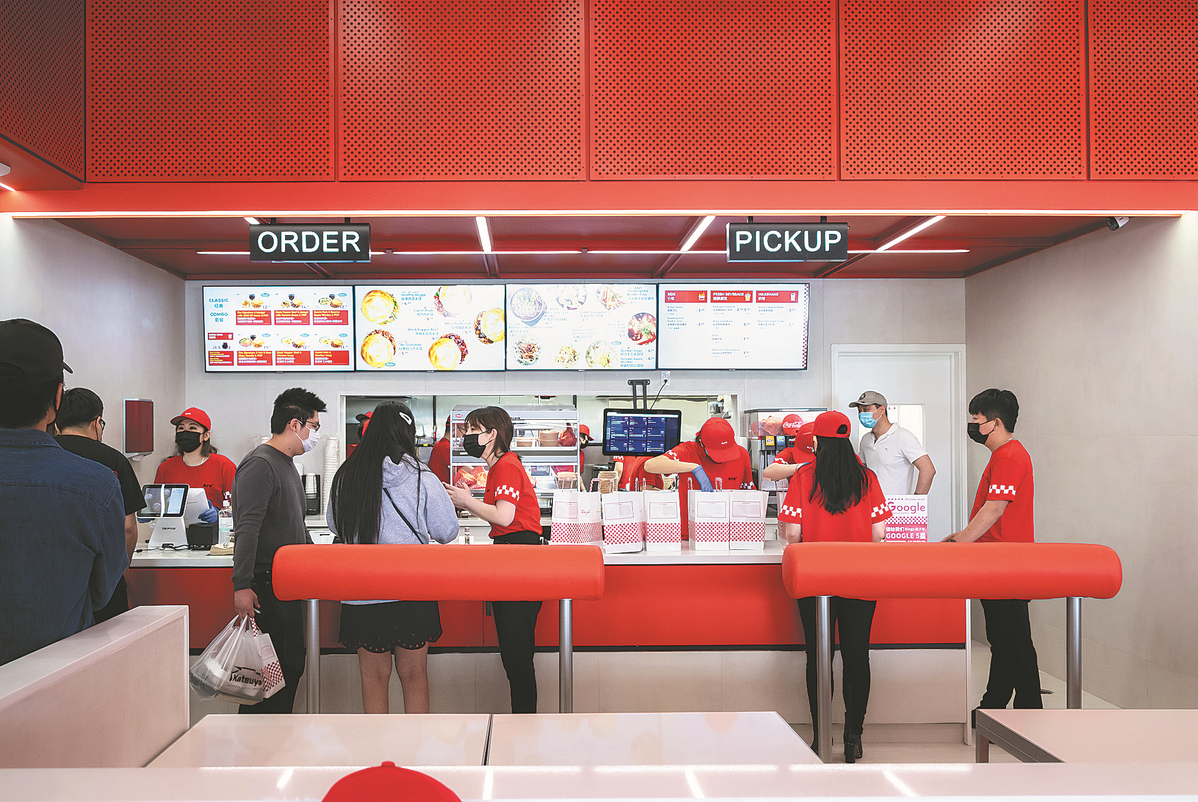 Chinese fast-food chain Bingz, which specializes in roujiamo, or Chinese-style burgers, opens its first store in Toronto, Canada, in 2021.CHINA DAILY
  Authenticity assured
  Gao Fu, president of the Chinese Food Culture Special Fund affiliated to the China Cultural Heritage Foundation, said the first Chinese restaurants to open overseas provide dishes adjusted to local tastes, as there has always been a strong need for authentic Chinese cuisine abroad.
  He said many international hotel groups have asked him to help find more chefs specializing in Chinese cuisine to work in countries such as the United States and France.
  The keys to operating Chinese restaurants overseas are to standardize the dishes, present Chinese culture, and interact with local culture, Gao said, adding that it is important to familiarize overseas customers with the philosophy of Chinese cuisine, such as eating seasonal ingredients at harvest time.
  "We should also develop a standard for Chinese cuisine overseas like the The Michelin Guide," he said.
  As the influence of the pandemic fades and international flights resume, Gao said the number of overseas trips made by Chinese customers will gradually return to the pre-pandemic level by July.
  "The demand for Chinese cuisine outside China will also recover as more travelers from the country venture abroad," Gao said.
  Hotpot chain Haidilao, which has been expanding rapidly overseas, launched its first outlet on foreign soil in Singapore.
  Last year, to celebrate its 10th anniversary in Singapore, the chain's newest outlet, located at Northshore Plaza, introduced technology featuring robotic arms, a customized machine serving soup, and robotic waiters delivering food.
  When an order is placed, robotic arms automatically select dishes and send them to a sorting area. The entire process is completed in temperatures of 0-4 degrees C to minimize the risk of bacteria being transmitted from humans handling the food.
  On the Xiaohongshu lifestyle platform, user "Hotmom of Singapore Lion City" said Haidilao's customers can fully experience artificial intelligence, and the robotic waiters and robotic arms appear to come from a science fiction film.
  Zhou Zhaocheng, CEO of Super Hi International, which operates Haidilao's overseas business, said using intelligent products and equipment at overseas branches is a good showcase for the Chinese catering sector's technological and research and development capabilities.
  Haidilao's signature dishes, including its classic spicy and tomato soups, are available worldwide and it has also launched regional dishes to cater to local customers' preferences.
  In February, Haidilao launched a mala milk broth, which combines spicy soup and milk to make the broth smoother and richer.
  "This new soup base quickly attracted views on social media platforms from many local customers," Zhou said.
  Last year, US film director and actor Woody Allen and his daughter Bechet had dinner at Haidilao's branch in New York. Bechet Allen attracted fans' attention by posting a photo on Instagram showing the branch's special dish, King Crab.
  Super Hi International, which as of June 30 operated 110 restaurants in 11 countries, including Singapore, Japan, the US, the United Kingdom and Australia, is one of the largest hotpot restaurant brands globally.
  At the end of last year, the business had an estimated annual revenue of more than $558 million, a 78.6 percent rise year-on-year.
  Zhou said that over the past decade, the company's internationalization has proceeded as Chinese cuisine has gone global and transformed from "immigrant food" to "branded cuisine" to attract customers.
  Chinese catering brands can help overseas customers learn about Chinese cuisine and Chinese culture, Zhou said.
  He added that during this process, foreign customers' curiosity about China's development and changes over the years has provided Haidilao with a solid foundation for its long-term overseas expansion.
  Chinese hotpot is one of the main food categories in overseas markets. Sichuan-style hotpot chain Shooloongkan has opened outlets in 11 countries, including Germany, France, Australia and the US, while Tanyaxue has become popular in Japan and Australia with its signature duck blood curd hotpot.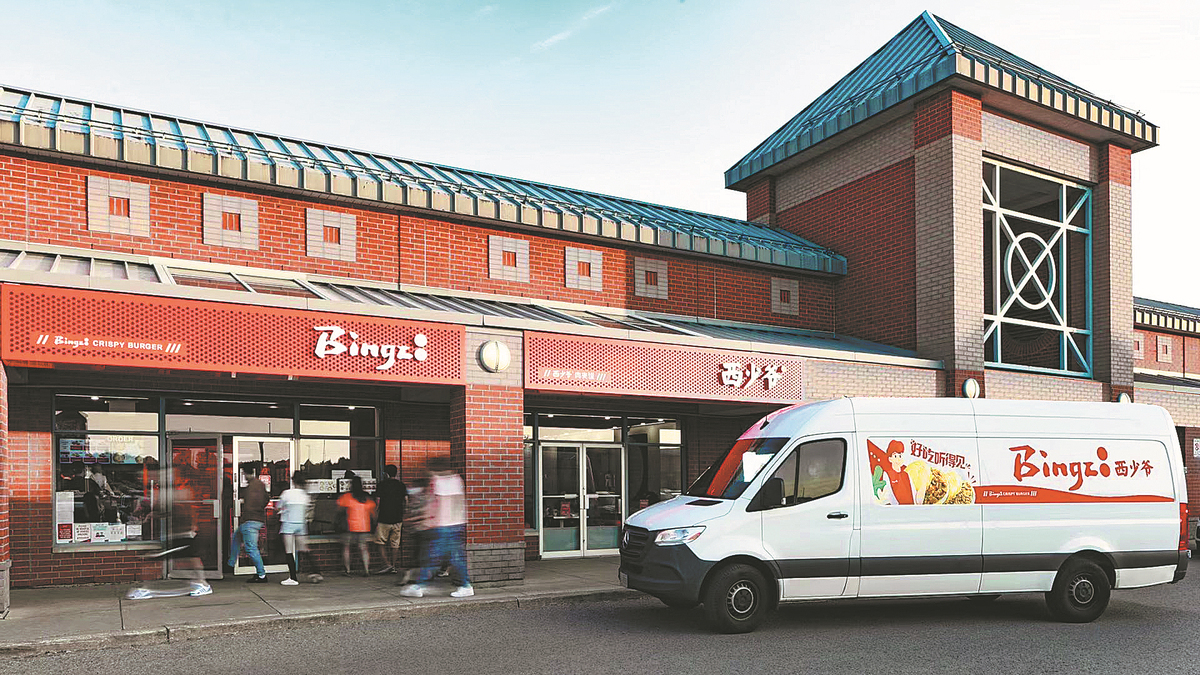 Chinese fast-food chain Bingz, which specializes in roujiamo, or Chinese-style burgers, opens its first store in Toronto, Canada, in 2021.CHINA DAILY
  Launching in US
  After launching successfully in Canada, Chinese fast-food chain Bingz, which specializes in roujiamo, or Chinese-style burgers, will set foot in the US this year.
  Founded in 2014, Bingz became a sensation in the domestic restaurant industry by selling more than 250,000 crispy burgers in 100 days at just one small outlet. After launching its first store in Toronto in 2021, the brand has proved popular in Canada.
  Meng Bing, 33, the founder and CEO of Bingz, said there are always long lines waiting outside the store, and police help keep order. "When the officers are off duty, they come to eat at our restaurant," Meng added.
  Meng thinks that sandwiches, burgers and roujiamo are basically similar and easily accepted by people worldwide.
  As for flavors, Meng said some adjustments have been made for overseas markets. Unlike China, where pork is the most popular flavor, in Canada, beef and chicken are preferred.
  "We launched a butter chicken flavor in Canada, which has been well-received, and we plan to introduce it in the domestic market for a limited time. In North America, people also like sparkling drinks, and our plum fizz has been popular," he added.
  Bingz has set up a factory in Ontario, Canada. The meat for its crispy burgers is sourced locally, while the flour is imported from China.
  "China has supply chain advantages, and we now have five factories in China. We also plan to open a factory solely supplying products for export," Meng said.
  The company's overseas branches, which each occupies about 240 square meters, are larger than its domestic outlets. "The annual income of a single store in Canada is about 20 million yuan, and the corresponding figure in the US is likely to be even higher," Meng said.
  With four stores already in Canada, Bingz plans to open another 20 to 30 in the country this year. A Bingz team has also visited the US and Singapore to prepare for launches in these countries.
  For Meng, launching in Toronto acted as a trial run for the North American market, as the city is often referred to as the "New York of Canada".
  Meng said Bingz, which is headquartered in Beijing, plans to set such a base in the US.
  When the brand was founded, it aimed to become a global service provider of delicious and convenient Chinese food, he said.
  "We are working on building a Chinese brand with global influence to lead the industry in the future," Meng added.